Static electricity is a problem that companies face globally. It primarily affects industries, which handle non-conductive materials like plastics, paper, board, laminates, and textiles. The electrostatic attraction-repulsion causes materials to stick to machinery, or to each other, leading to jams, slow machine speed, and poor quality and productivity. Friction, pressure, and separation are the major causes of static electricity. When humidity is lower, higher static charges are generated. It becomes more noticeable in the months of winter, in dry laminates, and in air-conditioned environments.
We have designed the 683 series Static eliminator power supply and the different discharge bars for active discharging of disruptive static charges, which develop during the production processes. The discharge bars and the power supply are used primarily in cases where disruptive static charges on fast-moving material webs impair production processes and are required to be eliminated.
Working Principle
When the machine is underworking, the discharge around the needle generates substantial positive and negative ions, then any object with electrostatic pass through the ions zone, the neutralization happened, in other words, the electrostatic is neutralized. The static is eliminated in this way.
Features & Benefit
Consistent, uniform winding gives a more robust and stable performance.

More powerful static neutralization, lower electrical stress, and increased reliability.

Imported capacitor with good pressure-resistant and temperature-resistant.

Easy installation.

Adopt oil immersed-type high voltage transformer, which overcomes the easy short circuit and sparking of epoxy resin casting high voltage transformer.



Technical Parameters
Model

15KV

16KV

18KV

Input Voltage

AC220V

AC220V

AC220V

Output Voltage

15KV

16KV

18KV

Rated Power

200W

250W

280W

Output Mode

Direct Type

Capacitance Type

Direct Type

Capacitance Type

Direct Type

Capacitance Type

Cover Material

Plastic

Iron

Iron

Working Way

24h continuation

24h continuation

24h continuation

Dimensions

205*130*140mm

250*155*165mm

250*155*165mm

Net Weight

3.0KGS

5.0KGS

5.2KGS

Applications

Packaging Plastics Printing Paper Food Pharmaceutical Electronics Textiles Optics
Working Principle Graphic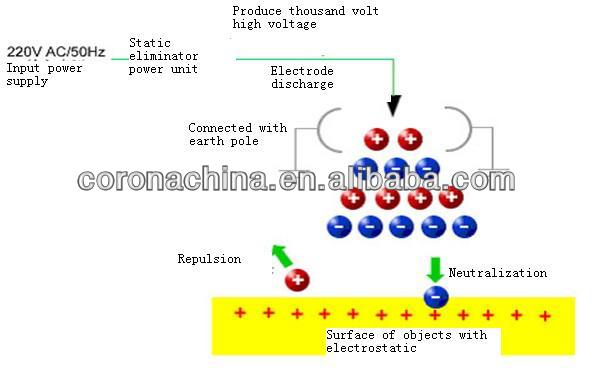 More details pictures